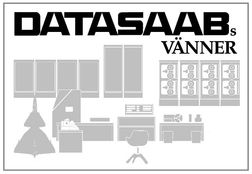 Datasaabs Vänner ( Friends of Datasaab) was a non-profitmaking society aiming to promote education and historical research for the public good within the area of computer technology from the 1950-th and on, focused on the region of Linköping (Sweden), and the former Datasaab company.

Datasaabs Vänner ended that association in the end of the year 2017/ 2018. Östergötlands Museum, IT-CEUM manages this historic site.
Summary of the Datasaab history
Part of Sweden´s early computer activity was intimately associated with the aircraft industry, mainly the Saab company (Svenska Aeroplan Aktiebolaget) in the city of Linköping. A computer called SARA was built in the middle of the 1950´s and was used for aerodynamic calculations. Research started at the same time with the aim to develop airborne computers. These activities developed gradually into a computer industry which lasted for three decades. It existed under various names and with various owners but here it is given the common name "Datasaab".
Datasaab evolved as the supplier of airborne computers to the Viggen aircraft of the Swedish air force. A mainframe computer series, called D20 with advanced problem oriented software was delivered to a number of Sweden´s main industries and government institutions between 1962 and 1973. Datasaab introduced minicomputers at the end of the 1960´s and became a major supplier of computer based equipment to banks in Europe and in the United States. Datasaab also developed security equipment for card based transactions in retail stores and in ATM´s. A family of advanced application programs for business administrative purposes was developed and implemented on different computer platforms. These were marketed and delivered to customers in many countries.
Basic training and maintenance were major parts of the Datasaab philosophy and were of vital importance for customer acceptance, especially in the early days.
Datasaab was originally a small part of the technical department at Saab. Operations expanded fast , and facilities for production, marketing and maintenance were added. Datasaab became a separate division at Saab in 1968. The mainframe system D20 was transferred to Sperry Univac in 1975, and at the same time Datasaab acquired a number of European subsidiaries from Facit. At that time the Datasaab group had some 3000 employees, 750 of whom worked outside Sweden, and had yearly sales of 400 million SEK.
Datasaab separated from Saab in 1978 and joined Stansaab in a new company, Datasaab AB. This company was acquired by Ericsson three years later and became part of a business group named Ericsson Information Systems (EIS). Nokia took over part of EIS in 1987, including what remained of the original Datasaab, an R&D group in Linköping, which in turn was sold to ICL/Fujitsu in 1991.
/ Viggo Wentzel